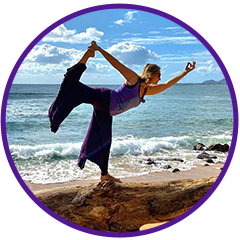 ANYA
The most important thing to Anya is you leave class feeling connected to your heart and the island of Kauai.
A classically trained ballet dancer from Russia and long-time yoga instructor, Anya relishes the balance that yoga brings to the mind and body.
She enjoys helping people heal and release their pain. With over 10 years of teaching experience, Anya guides people from all paths to move in harmony with their bodies. She passionately believes in the abilities of yoga and nature to heal the body and to caress the spirit.
Anya was inspired to teach after the birth of her daughter. Yin yoga helped Anya manage the pain post child birth from a hip injury that drugs could not heal. Yoga is more than movement – the mental journey is tightly woven with the physical. She delights in helping children and adult beginners discover yoga. Anya is blessed to share with others the gentle approach of yoga to life.
Anya also offers wonderful services as a wedding officiant and real estate agent here on Kauai.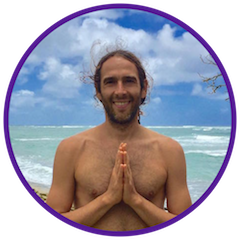 WILL
Will Glass began his journey as a yoga teacher in 2007 in Phoenix, Arizona. In just a few months he was on the schedule at the Valley's hottest Vinyasa studios such as Modern Yoga, Lifepower Yoga and Montelucia Resort. After visiting the Island of Kauai every year for half a decade, Will realized his heart belonged in a more peaceful setting.. Setting his intention on relocating his family to Hawaii, Will moved in the winter of 2017 and has since taught regularly on the beach at Kauai Shore Hotel. Will teaches a variety of levels and specializes in leading practitioners in his "Will Power" class that blends a variety of asana and calisthenics to help students lengthen, strengthen, balance and breathe.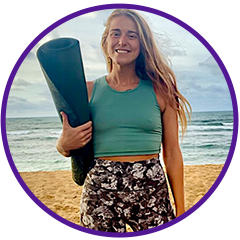 ANDREA
Andrea moved to Kauai in 2019 from the mountains of Colorado, where she lived in a small ski town for five years. Trading the snow for the ocean, Andrea swapped her snowboard for a surfboard, her hiking boots for fins and a mask, and her tent for a hammock. Her yoga mat never left her side. Andrea discovered yoga while rehabing a broken leg and fell in love with the practice – from the physical benefits to the mind-body-spirit connection and manifestation of self love. It is her passion to share this joy with others. Andrea's classes are flowy, twisty, stretchy, and designed to make her students feel amazing. She believes that breath is the master of the mind and always incorporates breathwork in her practice, as well. Andrea's classes leave you feeling open, centered, and more deeply connected to yourself.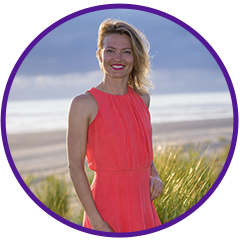 VERA
Vera Live, Founder Propel to Well
global mindfulness, meditation and yoga professional
Vera's successful business career has been fueled by a personal dedicated yoga practice. Since becoming a certified Mindfulness and Yoga Trainer in 2009, she works with all populations to practice mindfulness for healthy and purposeful life. Vera Live is motivated to guide you to harness the power of attention through guided meditation. Having worked for BP, Exxon, Multnomah county in Portland and Nike, she has a proven track record of delivering tangible results to her clients.
Vera believes an "Holistic and preventative approach to health is a key to a fulfilled life."
Vera Live is a certified Tension and Trauma Release Provider (TRE) and a founder of Hack your Aging Program "Propel to Well"
https://www.opulentmindfulness.com/teachertraining
© Kauai Yoga On The Beach  All Rights Reserved