Nature inspires our practice. Yoga lights the way. Let us be your guide.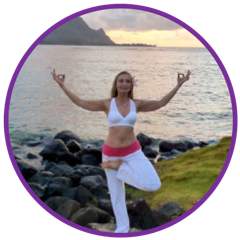 ANYA
The most important thing to Anya is you leave class feeling connected to your heart and the island of Kauai.
A classically trained ballet dancer from Russia and long-time yoga instructor, Anya relishes the balance that yoga brings to the mind and body.
She enjoys helping people heal and release their pain. With 8 years of teaching experience, Anya guides people from all paths to move in harmony with their bodies. She passionately believes in the abilities of yoga and nature to heal the body and to caress the spirit.
Anya was inspired to teach after the birth of her daughter. Yin yoga helped Anya manage the pain post child birth from a hip injury that drugs could not heal. Yoga is more than movement – the mental journey is tightly woven with the physical. She delights in helping children and adult beginners discover yoga. When she's not at the beach, she teaches yoga to the children attending at the Kanuikapono Hawaiian Public School. Anya is blessed to share with others the gentle approach of yoga to life.
INGRID
The most important thing to Ingrid is you experience the power of breath and deep relaxation. Ingrid lived and received her yoga training in India and spent a long time as part of the yoga movement in New York City. She is a Registered Massage Therapist that is fluent in Spanish and English. Ingrid teaches pranayama, the balance and awareness of the present movement. 'Prana' is breath, or vital energy of the body. The Yoga Sutras teach that control of the breath helps one to achieve balance and calms the mind. Ingrid is honored to share this practice with her students as they bask in nature.
MEGHAN
Meghan loves to share alignment principles and stories in her classes. She studied in Philadelphia, Pa and Asheville, NC for 11 years each. She recently came to Kauai, and is looking forward to learning from the island and the community here. She completed her first Teacher Training with Dhyana Yoga in 2005, and then completed her 500hr RYT in 2013 with Lillah Schwartz. She deeply respects all yoga traditions, and references Iyengar and Anusara styles frequently. 
© 2018 Kauai Yoga On The Beach  All Rights Reserved